All aboard for the Polar Express!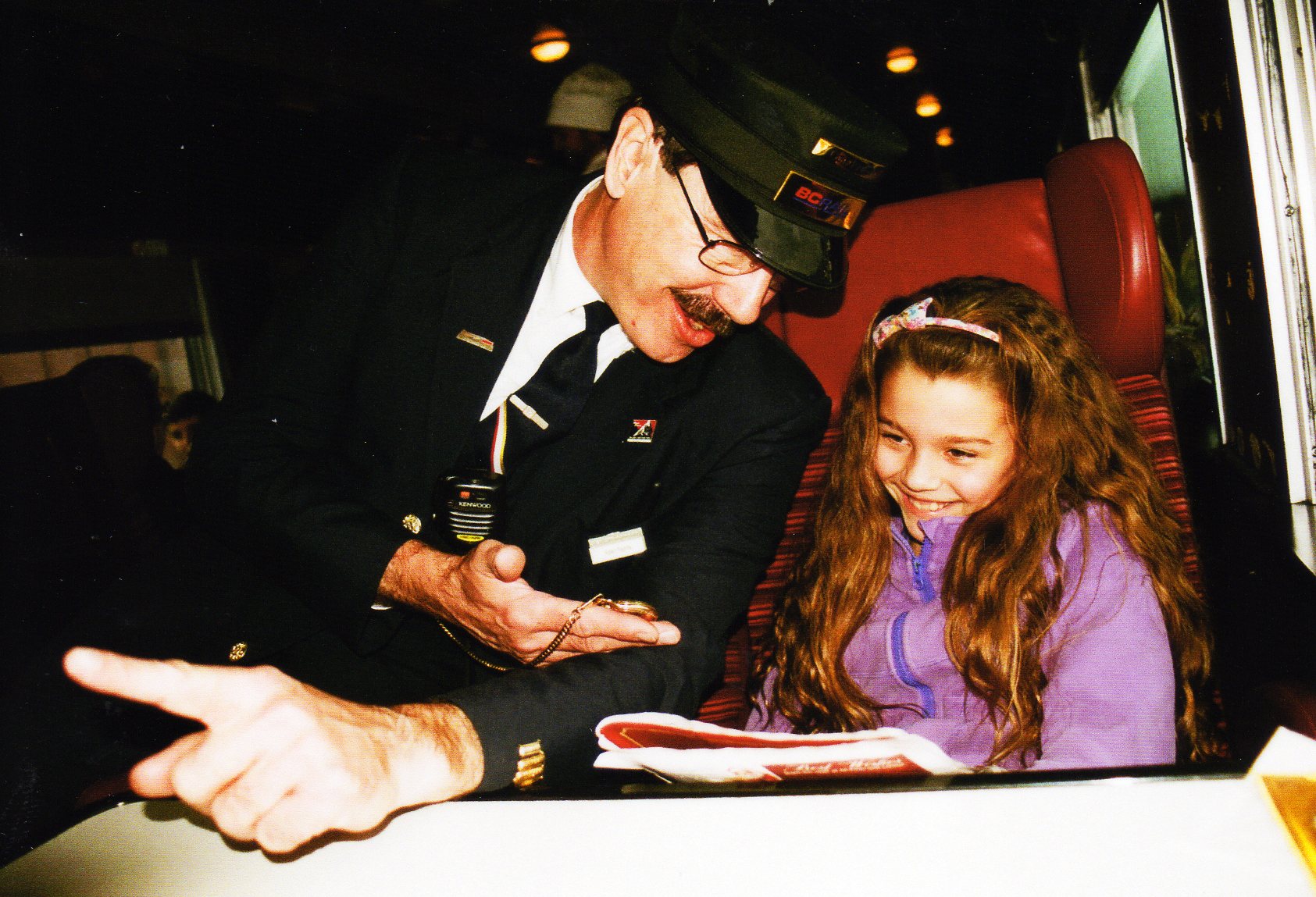 Where can you go in public, dressed in your pajamas, and you are not frowned upon? Well, I know one place that wearing your pajamas is not only acceptable, but is actually encouraged and celebrated!
Fantasyland in Disneyland or perhaps Universal Studios may be good guesses. But no, the West Coast Railway Association (W.C.R.A.) located in Squamish, B.C. runs this special train! It is the only heritage park in Canada that is sanctioned to run the Polar Express. For those of you who are not familiar with the 2004 animated movie, starring Tom Hanks, Chris Coppola and Michael Jeter, the movie revolves around a doubting boy who gets picked up from his home by a magical steam train that takes him to the North Pole and Santa Claus's home.
The West Coast Railway Association's heritage train, located in Squamish, B.C. consists of three coach class cars, one first class and a super deluxe caboose, all pulled by a vintage diesel locomotive. The Polar Express backs on the CN rail line and meanders through the scenic main estuary and wetlands to Squamish for 45 minutes, traveling at a leisurely 10 to 12 miles per hour.
Trish and I accompanied our daughter, son-in-law and two grandchildren for both the 2011 and 2012 (fourth year that the W.C.R.A. hosted this event) train rides. Because this event is so popular with young families, it was expanded in 2011 from one to two weekends (last weekend in November and first weekend in December) with four trains running each on Saturday and Sunday at 10:00 a.m., 12:00 p.m., 2:00 p.m. and 4:00 p.m.
Rob Delaurier, the conductor in the first class car we were in, is the spitting image of Tom Hanks from the animated movie. Coincidently, he actually works as a conductor with CN and on the Saturday we were there, just finished his shift at 3:30 a.m. that morning and headed here to volunteer with the Polar Express. He loves the happy environment and has been volunteering for this event since it started four years ago. He is one of around 70 volunteers who help over these two weekends. In fact 95% of the people who operate this event, from the ticket people to the engineers are volunteers.
Rob checked each of our gold tickets and punched them ceremoniously a number of times over each of our heads as he proceeded through the car. He engages with everyone on board, made jovial comments with each of the riders, especially the children, and posed for photographs on request. Two ladies dressed as chefs shuffled by to serve the hot chocolate and chocolate chip cookies. Although not as athletic as the chefs in the movie, they mumbled that they were doing cartwheels as they passed by. Meanwhile, the train saunters along the estuary and makes frequent stops.
Christmas song sheets were handed out to everyone and Rob and the chefs encourage everyone to call out carols they want to sing. We took their lead and joined in with our best voices in song and thoroughly enjoyed the experience. For the 2012 Polar Express runs the hobo was added feature. He looked and played the part to a tee and strolled through the coaches, making contact with all the children.
After 45 minutes, our magical ride ended, all but too soon. We bade our hosts goodbye and disembarked to head to the CN Roundhouse and Conference Centre. Here is where the Royal Hudson steam locomotive that once chugged back and forth up the west coast, is stored. A throng of parents and grandparents with their children and grandchildren were lining up to either take a ride on the miniature train or visiting Mr. & Mrs. Claus seated at the North Pole, ready to hear children's requests for Christmas. People could purchase food and refreshments from the various kiosks and children could have fun playing at a number of play stations and take in the crafts, located by the large windows of the roundhouse. After our grandchildren, Rayn and Phoenix had their train ride and a visit with Santa, it was time to head home. Before we left, we picked out our complimentary gifts of either a commemorative Polar Express mug or travel mug. I chose the porcelain mug while Trish chose the travel mug.
Those that chose to pay for a ride in the authentic operating caboose BCOL 1859, received a special hobo lunch kit as well as the commemorative mug.
For families with young children or grandparents who want to give their grand kids a nice treat to kick off the Christmas holiday season, taking a ride on the Polar Express in Squamish, B.C. is just the ticket. A great time is guaranteed!
My hat is off to all the wonderful friendly volunteers who contribute their time and energy to make this a really memorable event.
If you plan to take the Polar Express event in with your family, be sure to book your tickets a month or two in advance. They sell out very quickly. For more information be sure to visit their website: www.wcra.org.