Cycle kart Racing is a Fun and Inexpensive Way to Access Motor sport!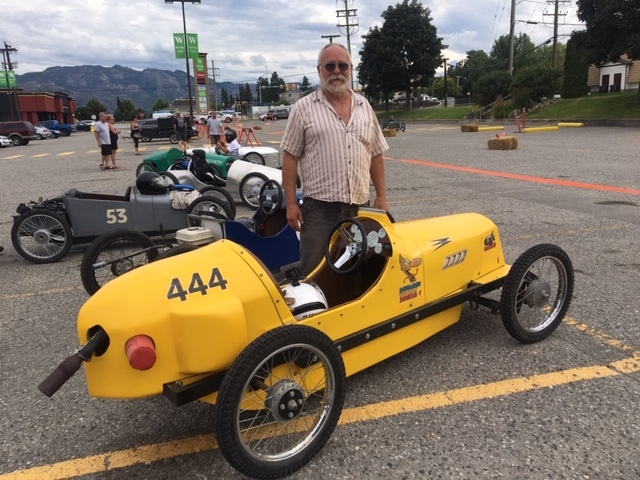 I was completely caught off guard during the Summer of 2019 when I was exposed for the first time to the sport of Cycle kart Racing in the parking lot of a shopping mall in Westbank!
I had no idea that this hobby, based on a variation between go-cart technology, using rear mounted 3 ½ horsepower Briggs & Stratton engines and the Virage Series Indy 500 style racing cars that are powered by snowmobile engines, even existed. Yet, here I was witnessing these scaled down 1910 to late 1930s replica racing cars zipping around the parking lot, demarcated by hay bales, vying for the best time. There was an aura bordering on giddiness, as these drivers were more focused on the adrenalin rush they were experiencing, rather than winning the time trials. This was grassroots racing, as it was intended. There was a wonderful camaraderie, as all the drivers were cheering each other on and having the time of their lives.
Cycle kart racing has become a worldwide phenomenon. There are literally dozens of sanctioning organizations that have their own regulations and practices. There is a thread or theme that is common to all cycle kart-racing groups, and that is they emphasize the creativity of building your own 1910 to late 1930s vintage-theme kart and have fun. Incidentally, in the early 20th century, cycle cars were an inexpensive popular form of motor sport that bridged the gap between full-fledged motorcars and motorcycles. These lightweight cars were sold to the public, and were simple to work on. Soon, people got the idea that stripped down versions of these light cars made great racers. It wasn't long before there were formal and informal races being conducted. However World War I and the resultant advancement in automotive technology in the years that followed, rendered cycle cars obsolete. Consequently, that ended that motor sport.
Today, the essence of cycle car racing, now referred to as cycle kart racing, has been revived in the form of grown-up go-karts. Many automotive racing enthusiasts that are looking for an inexpensive and nostalgic racing experience try this motor sport.
The formula for building a cycle kart is pretty straight forward, by using readily available go-kart parts and implementing grassroots ingenuity to design and construct a vintage racecar body.
First the hobbyist constructs the chassis that consists of two three-inch main rails with cross bracing. Welding skills will be required or acquired during this process. You would be surprised how many of these people have learned this skill by learning the basics from a friend and then trying it themselves! The basic go-kart steering, tubular axle with 24" leaf springs are mounted up front and solid rear axle is bolted to the frame in the rear. A four-stroke single cylinder engine, around 6.5 to 8 horsepower is mounted in the rear. The power from the engine is transmitted to one rear wheel through a torque converter, consisting of a drive clutch, a driven clutch and belt. The other rear wheel has the mechanical disc brake. The wheels must be 17" in diameter and are usually from small motorcycles or mopeds.
The body construction is the creative aspect of this sport. Some cycle karts are pretty basic, but functional, while others are downright beautiful with complicated designs, using monocoque construction and streamlining. Wood, sheet metal and fiberglass are the main construction materials that are used and shaped to make the bodies of these racers. Many of these hobbyists have never dreamed that they were even capable of fashioning bodies from fiberglass or using the English Wheel to form curves in sheet metal. Their creations range from European exotics to early American speedsters and 1930s hot rods. Amazingly, the cost of building a cycle kart from scratch can be readily accomplished for under $2000!
The design aspect of cycle kart racing has become a very important tenet of the sport. Around 80% of cart preparation is devoted to preparing an original Kart that the owner can be proud of. That is why many sanctioned events include a concours event where their karts are judged for creativity, ingenuity and presentation.
Allen Bass from Bellingham, Washington was one of the cycle kart racers that participated in the time trials and races on that weekend. His cycle kart
creation was modeled after a 1934 Maserati. "It took me 6 months to build." Bass revealed. "I built the body out of wood and fiberglass." This Kart has Ford Model T steering and rear axle. The wheels on his racer are from a Honda 90 motorcycle. Allen found the 6.5 horsepower Predator engine in his local Target store. To increase the engine horsepower output (the rules allow this) he installed a header, a special air intake manifold and re-jetted the carburetor. "Now I get 8 or 9 horsepower out of this engine!" Bass exclaimed.
One of the questions that came to me while watching the time trials part of this weekend event, was. How safe is this sport? The cycle karts I saw had no built in roll bar to protect the driver in case of a rollover. I didn't have to wait long before I witnessed a local car with the ominous '666' number painted on the side, with the driver taking the corner too quickly. The car flipped upside down right in front of me. The driver was temporarily pinned under the car until two people could lift the vehicle off of him. Thankfully, the driver hadn't been going too fast (these cycle karts are capable of going up to 50 mph) and he was wearing the mandatory helmet. Whew! The gentleman was shaken, but not hurt! Invariably, these are the risks one takes when engaging in this sport. Although a seldom occurrence, accidents can happen, but for the most part drivers exercise caution.
Cycle kart racing is done on a variety of road surfaces, from asphalt to dirt tracks. Gentleman's racing is the objective, where aggressive competitive driving is discouraged. That is not to say that there is no serious passing or tactical maneuvering occurring as racers strive to win. Winning races is secondary. The goal is to have a smile on your face and have fun!
Photographs:
1) Allen Bass from Bellingham, Washington with his yellow 1934 Maserati cycle kart. He installed a modified Predator single cylinder engine that produces 8 or 9 horsepower.
2) A Cycle kart racer trying to get the best time for the time trials at Westridge Mall, Westbank.
3) The author is seated in a Cycle kart. No, I am not competing in the time trials!