Salzburg, "The Hills are Alive"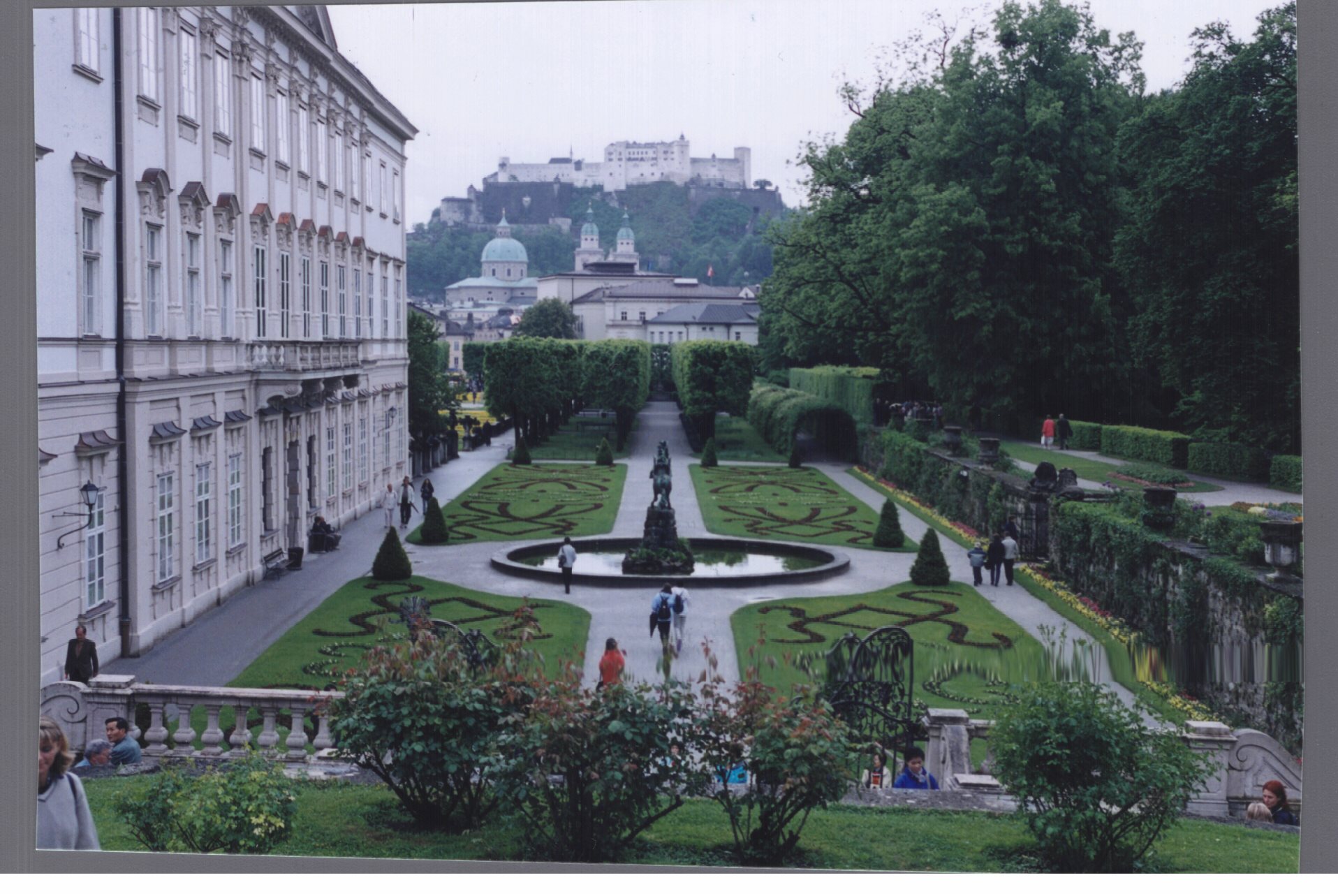 When you mention Salzburg, Austria, it's natural to think of the 1965 Oscar winning film "The Sound of Music" with Julie Andrews, Christopher Plumber and the Von Trapp children dancing in the Mirabellgardens to Do-re-me. And, yes, you can take a guided tour to all the sites in Salzburg and surrounding area used in making the musical. But there is so much more to see here.
On a beautiful Spring day in late May, our rented diesel Opel Vectra station wagon took us to "The Mozart City", situated on both banks of the Salzach River, in the foothills of the Austrian Alps. We arrived here from Graz, in the southeast of Austria, traveling on the twisty, two-lane E-57 highway, crossing the breathtaking mountainous countryside. We passed farmers busy cutting hay in their fields, sheep, horses and cows grazing contentedly, and drove through numerous clean and tidy small towns.
Once we arrived in the heart of Salzburg, we checked out several of the smaller hotels to compare their rates. After making inquiries at two places, we struck bonanza on our third try. The Nussdorferhof, without exception, was the best hotel we had encountered during our trip, a real gem! Herbert and Ilse Kronegger, the owners, know how to treat their guests royally. After spending six years working on cruise ships, and operating other hotels, they decided, around two years ago, to strike out on their own, and bought the Nussdorferhof. The rooms are spacious and clean, with satellite TV and balconies off each room. Prices range from 68 to 79 Euros a night for a single occupancy room and 98 to 130 Euros for a double. For a quick conversion to Canadian Dollars, just think of 1 Euro being worth approximately $1.50 Canadian. Room prices will vary according to the room size and the season. Rates are higher from June to September.
Breakfast is included with your room. This is not your typical continental fare with bread, cheeses, jams or cold cuts, but a smorgasbord is offered, from a plethora of cereals, eggs, yogurt and fruit to smoked salmon, and freshly squeezed orange juice. You can save around 7 Euros per day if you decide to opt out on breakfast. But who would?
Free Internet service for hotel patrons, is also available in the lobby, and there is ample free parking in the hotel's parking lot, which is a real plus! We thankfully left our car at the hotel during our stay here, to avoid the headaches of driving around the city and trying to find parking!
The Nussdorferhof is a leisurely fifteen-minute walk from the old town. If you think you'll get too tired to walk back to the hotel, prior arrangements can be made with Herbert, to pick you up and bring you back to the hotel, gratis.
Once we settled in, we were ready to tour the city. One of the most economical ways to experience Salzburg is to buy the Salzburg Card. This plastic card, similar to your credit card, allows you free access to the excellent bus and streetcar transit system, entrance to around 25 museums, art galleries and other sights. The card also offers discounts from 10 to 30% on concerts, salt mine tours, cable car rides, etc., and can be purchased at most hotels or tourist information offices.
The Salzburg Card is sold in 24, 48 and 72-hour versions, and costs 18 Euros, 26 Euros and 32 Euros, respectively. Divide those costs in half if you have children aged 4 to 15 years old. The Salzburg Card is valid for one free admission to all the major sights is not transferable, and there is no refund if you lose it!
Like a lot of European cities, Salzburg is compact and easy to get around in. If you have a pair of comfortable walking shoes, and enjoy a leisurely stroll, the old city is pedestrian friendly. It came away unscathed from the severe flooding that other cities experienced in the summer of 2002. The quaint cobble stoned walking streets, with it's many stores and small shops sell everything from Swiss watches and jewelry to fine china and clothing. There are several prominent cathedrals, a number of large courtyards, fountains, and a variety of fine restaurants to choose from. On those warm spring or summer nights, these outdoor areas are filled with locals and tourists alike, enjoying a late dinner, in a vibrant and almost festive atmosphere.
The most prominent edifice in the city is the Fortress Hohensalzburg, which sits on cliff high atop Salzburg, and can be seen from anywhere in the city. Access to Europe's largest fortress from the 11th century, is either by a steep footpath (for those who enjoy some cardiovascular exercise) or by taking the Festungsbahn, the oldest funicular in Austria, originally built in 1892. Once you're at the fortress, you can walk around the streets, visit the Fortress Museum, Rainer Regiment Museum and the String Puppets Museum. Be sure and note the times these museums close. Summer hours (June 15th to September 14th) are from 8:30 a.m. to 8:00 p.m. for the castle grounds and the museums inside are open until 6:00 p.m.
Wolfgang Amadeus Mozart was born in this city in 1756, and both his birthplace and the residence, where he lived from 1773 to 1780, are now museums. Exhibits of musical instruments, portraits of the Mozart family, personal letters, and musical scores can be viewed. We chose to visit Mozart's residence, and took the handy portable audio tour guide, (included on the Salzburg Card) around the rooms and the exhibits. At the end of the tour there is an interesting video depicting the life of the Mozart family.
Marionettes; those stringed puppets, as depicted in "The Sound of Music" play an important part in Salzburg's history, and the Salzburger Marionettentheater offers a number of performances. We took in the Johann Strauss operetta "Die Fledermaus" and found this captivating theater art most enthralling. This is an art form is rarely, if ever seen in North America. I gained a renewed respect and appreciation for the skills required while performing this almost forgotten art form. Ticket prices range from 18 Euros to 35 Euros, and can be purchased at the Salzburger Marionettentheater.
The Cathedral Museum (Dommuseum zu Salzburg), which is also included on the Salzburg Card, features treasures and art from the Salzburg archdiocese, ranging from the Middle Ages to the 19th century. As a bonus, you can take in a panoramic view from this impressive museum that overlooks the beautiful and ornate baroque-style sanctuary below.
Salzburg literally means "Salt Mountain" in German, and no tour of Salzburg would be complete without taking a tour of either the nearby salt mine in Hallein, Austria or Berchtesgaden, Germany. It was a gorgeous day, when we drove to the salt mine at Berchtesgaden. It cost 10.50 Euros per person with the card. In Addition to hearing about mining the white gold here since Roman times, we enjoyed whooshing down a couple of steep wooden slides. At the bottom of the mine, a cable pulls a raft across a shallow salt lake. The railway then whisked us back up into daylight, where one can purchase photos of your group taken during your tour.
From here we took a short drive to the Koenig See to buy round trip tickets on the old electric wooden tour boats for 13.50 Euros each. This picturesque lake with surrounding steep snow capped mountains and cascading waterfalls, is an awesome sight. The ticket allowed us to disembark at the dock at the end of the lake, from where we took a short walk to the Obernsee, another picturesque small lake. In the distance, you can see the highest waterfall in the Alps.
Once back at the dock, we took yet another tranquil boat ride to the dock near the famous St. Bartholomew's Church.
Another worthwhile side trip from Salzburg is the famous Hellbrunn Palace and Trick Fountains, which is one of the finest examples of mannerist architecture. Take bus #55 from downtown. Be forewarned! You will get wet, but then, it's part of the fun!
Alas! Our three days in this beautiful city had come to an end. Taking a bicycle tour, or the recently inaugurated "City Cruise Line" down the Salzach River, or even a horse drawn carriage ride through the old city, would have been nice, but…next time.
Before you leave, buy a box or two of Mozartkugeln, which is exclusive to Salzburg. In 1890, the Salzburg confectioner Paul Furst created the Mortzartkugel. He rolled a ball of coconut paste (called marzipan), stuck it in a nougat cream, speared it with a wooden stick, and finally dipped it into bittersweet chocolate. Over time, this traditional, laborious, handmade process was industrialized. Today, the unmistakable red and gold octagonal or violin-shaped boxes are the most popular souvenirs from Salzburg that is if you don't eat them first! Yummy!
For more information about Salzburg, check out the website: tourist@salzburginfo.at