Cadillac's Most Expensive Model for 1958!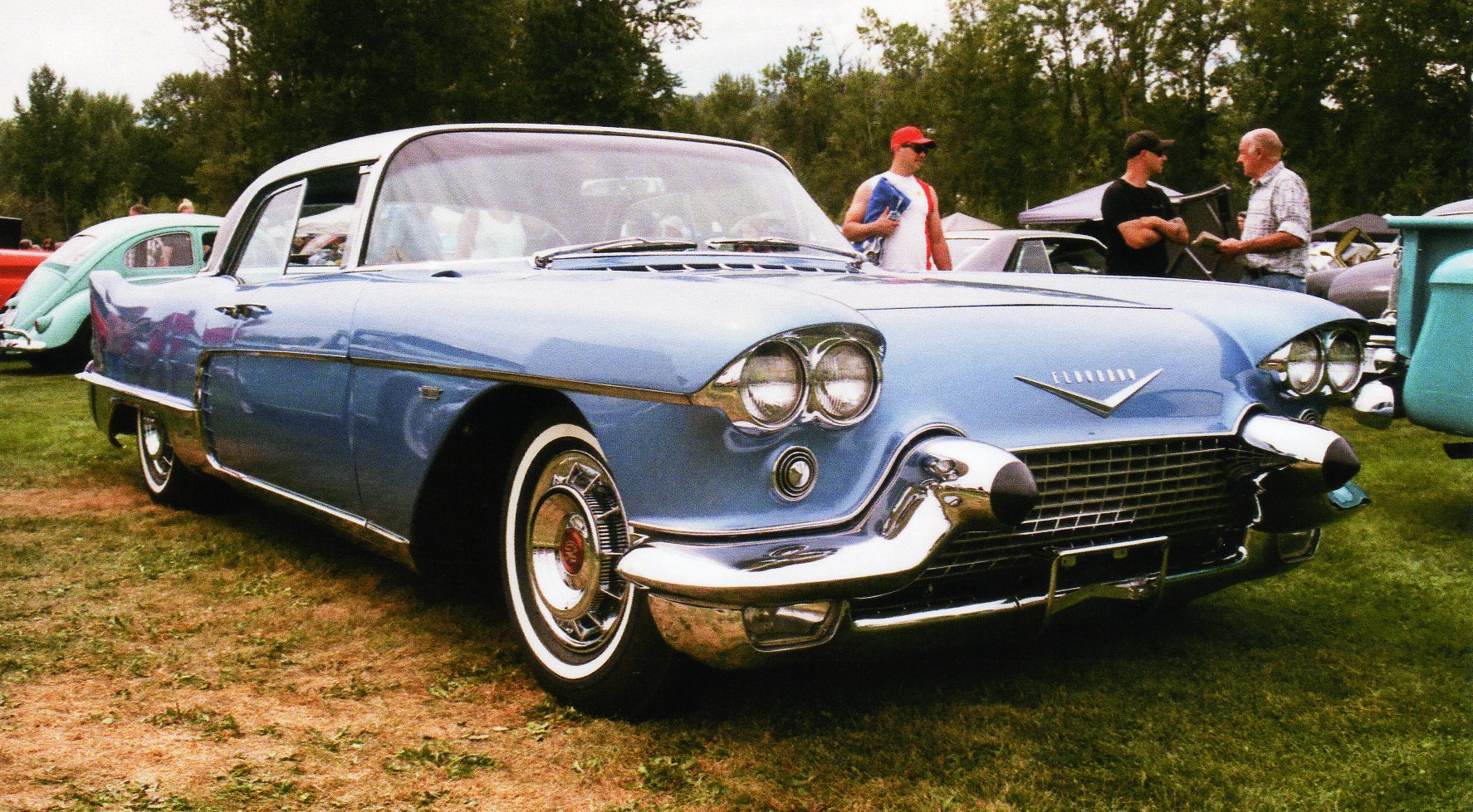 I was absolutely flabbergasted! This was a dream come true for me. Right in front of me was # 170 of the "Famous Car Series of Jell-O Brand Desserts Picture Car Wheels collection offered in 1961 in boxes of Jell-O puddings and Hostess potato chips. It was one of the first coloured plastic wheels I collected, a 1958 Cadillac Eldorado Brougham in the same Lake Placid Blue!
This very exclusive model was first conceived from several renditions of the Motorama concept vehicles, designed by GM styling boss Harley Earl. The first concept car created was the compact Orleans that was shown to the general public in 1953. Three more concept vehicles were created in 1954, Las Espada, Park Avenue and El Camino. Earl introduced the stainless steel roof at this time. The purpose of these concept Cadillacs was to gauge the public's response to these designs and garner the support to develop his dream of manufacturing an ultra luxurious Cadillac. The public responded most favourably to the sporty 4-door Park Avenue.
In 1955 Harley Earl followed up with the first concept car with the Eldorado Brougham name. The car was unveiled at the Waldorf Astoria. It had the brushed stainless steel roof, wrap around windshield, Autronic Eye self-dimming headlight feature, swivel seats, aluminum wheels and air-conditioning.
The 1956 concept Eldorado Brougham, planned for production, had dual headlights, but for the Paris Auto Show GM management decided to graft a new front clip on to the car that had four headlights, even though a number of U.S. states had not yet passed a law that would allow this new technology on new vehicles sold in their states. With only minor changes like adding full rocker panel stainless steel trim, deleting the swivel seats and installing a short stub frame for stronger support for the door latches and locks, this Eldorado Brougham went into production. An additional concept Eldorado Brougham, a town car was shown at the 1956 Motorama to ramp up the excitement of this exclusive Cadillac as it neared production.
Harley Earl personally oversaw the styling direction of the Eldorado Brougham. His styling team of Ed Glowacke, Cadillac Chief Designer, was in charge of the designing of this special Cadillac, and a young designer, Robert Scheelk, who performed most of the design work. From the Dagmar front bumpers and grille that accentuated an aircraft theme, the compound panoramic windshield, stainless steel roof, suicide doors and swept-back fins at the rear implemented the most popular styling maxims of this era.
The Eldorado Brougham was the most expensive and exclusive Cadillac manufactured at that time. The astronomical price of $13,074.00 (another source quoted a price of $13,600.00) was the most expensive car in the U.S. It was more expensive than the Lincoln Continental Mark II, also a hand built car that sold for $10,500 and was the most expensive car built in America in 1956. Even The standard Rolls Royce Silver Cloud was less expensive than the 1957 Eldorado Brougham! The fact is that General Motors lost money building these ultra luxury cars. How much did G.M. lose on each car? There is a rumour that when one GM employee enquired if he could purchase the Eldorado Brougham at cost, he was told that it would be an additional $10,000 over the list price!
These cars were hand-built on a shorter X-frame Cadillac Eldorado chassis and were individually numbered. Fleetwood built the bodies. The 365 cubic inch Cadillac V8, producing 325 horsepower, with two four-barrel carburetors for 1957 and three two-barrel carburetors for 1958, along with the four-speed Hydramatic automatic transmissions, was custom built for these Eldorado Broughams to ensure that they were quiet. Each car was test driven before delivery.
Also included as standard equipment was a collection of vanity items that occupied divided sections of the glove compartment. A metal tissue holder sat in the middle, a cigarette case occupied a section on the left, six stainless steel goblets with magnets in the bottom of them (they were stored in a screwed together two piece plastic container and strapped to the inside of the glove compartment) could attach to the back of the foldable full length mirror. There was also an Evans Carryall that contained lipstick, comb, face powder and a holder for Parking meter nickels. Remember, this is 1957 and '58 when parking only cost a nickel. The rear center armrest also had compartments that housed a beveled mirror; leather bound notepad with
Cross sterling silver mechanical pencil. To top it off there was a one-ounce atomizer bottle containing Arpege Extract de Lanvin perfume! What more could you ask for?
The 1958 Cadillac Eldorado Brougham I saw in Winfield at the Lake Country Customs and Classics Show and Shine was brought by Dugie McLean. He restored this car for a customer. This gentleman purchased this special Cadillac 35 years ago in Vancouver. Everything on this car has been restored to original factory specifications, except for the original condition blue leather and cloth interior.
The lavish interiors in these cars were second to none. There were more than 45 different fabric and leather colour combinations. The customer could choose between Mouton (sheepskin) or Karakul (wool loop pile) carpeting. Other interior features were polarized sun visors, separate heaters under the rear seat, power windows (including the vent windows), power brakes and power steering, and of course air-conditioning. Again, these accessories were all standard equipment on the Eldorado Brougham. Along with the myriad of interior colours and fabrics to choose from, there were 15 unique exterior colours to this model as well as the regular 12 colours available on the regular Cadillacs. If those choices weren't enough, for those very discerning buyers, Cadillac would make up any colour they wished for.
Dugie had the 365 cubic inch tri-power V8 rebuilt to original specifications, as well as the 4-speed Hydramatic automatic transmission. All the side glass (door windows) has been replaced and a replacement windshield was sourced from Switzerland and installed on this car.
I asked Dugie if I could get a few photos of the Eldorado Brougham with the hood, trunk and door closed. He agreed, but needed to hook up the battery that was located in the beautifully carpeted trunk, behind the spare tire. He pushed a couple of buttons on the dash that electrically closed the trunk lid and hood. I was impressed that this technology existed back in the late 1950s. It is only fairly recently that we have seen this feature on cars, vans and S.U.V.s.
The memory front seats moved back and lowered as the driver entered or exited the car. One or two predetermined positions for different drivers could be selected. Another safety feature that we take for granted in today's vehicles and was offered on the Eldorado Brougham is a central electric door-locking feature that disables the rear interior door handles preventing the doors from accidentally opening when the car is placed in drive. There is also a novel electro-mechanical drum dial clock that sits inside a rectangular bezel, just above the glove compartment. The car also has a unique automatic start and restart engine feature. Another advanced feature on these Eldorado Broughams, that I was surprised to discover, is that they implemented an electric fuel pump in the gas tank. This was amazing technology back in 1957 and '58 without the computer technology we have available in today's vehicles.
Delco also developed the first transistor AM radio for the Eldorado that was used with the power antenna.
To top it off the latest full four wheel air suspension with automatic load leveling (unfortunately this sophisticated suspension system incorporating 4 air spring assemblies, three leveling valves, a control solenoid assembly, an air compressor to maintain a constant ride height, and an accumulator, proved to be finicky, prone to leaks and was unreliable) ensured that the ride was superb, cornered well under normal driving conditions, mitigated nose diving when braking and tail squatting when accelerating. The Cadillac Eldorado Brougham fulfilled General Motors' goals of producing an automobile with the latest technology, comfort amenities and futuristic styling. It also was a valuable exercise to gauge the market potential in this rare instance, when a car is produced with only minor changes from a one-off concept car.
There were very few differences between the 1957 and 1958 Eldorado Broughams. In fact the serial numbers for these two years ran sequentially, therefore there were 704 cars built for that initial model style.
There were 1959 and 1960 Cadillac Eldorado Broughams, but their styling did not stand out as the 1957 and '58 models. They were still unique and offered styling that preceded the regular Cadillac styling by one year. Although GM in the U.S. performed the styling for these models, Pininfarina built the bodies in Italy. Absent from these models was the beautiful stainless steel roof.
Production totals of Cadillac Eldorado Broughams were 400 for 1957, 304 for 1958, 99 for 1959 and 101 for the last year, 1960.
Remarkably, the 1958 Cadillac Eldorado Brougham that Dugie McLean restored has only 67,000 miles on the odometer. "Everything on this car works." He stated and added. "This is the only example of this model in Canada."
Photographs: