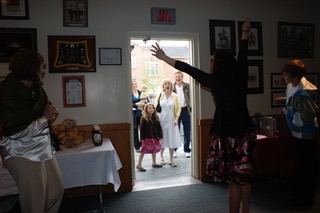 Here are some tips that will help you plan a successful event.
"Look Jim!" I chuckled. "We don't have to take you out for your birthday dinner, there's a barbeque right here." Jim grabbed a hold of the latch and swung open the large outside door to the Angle Armoury building. At that same moment a chorus of voices shouted out from inside the building. "Happy Anniversary!" Stunned, I instantly glanced over at Jim still holding the door open. Jim glanced back at me. Then a lady yelled from inside. "Gordon and Trish!"
Trish and I were completely taken aback and were completely dumbfounded! We had no idea that our relatives and friends had gathered here to celebrate our 30th wedding anniversary! I was in a daze. It took us several minutes to wrap our minds around the fact that we were NOT going out for our son-in-law Jim's birthday celebration!
How did they pull this event off without Trish and I becoming even the slightest bit suspicious that something was afoot? Well, here are the details as they happened and this may be a template that you can follow that may help with planning your surprise party, whether it is for a milestone birthday, a coming home celebration or a wedding anniversary like ours.